Wednesday, September 6, 2007
Christians For A Drug Free Idaho
By Ann Doupont and Rev. Anthony Harper, Ph.D., Boise
Click here to download our Christians For A Drug Free Idaho campaign enrollee form.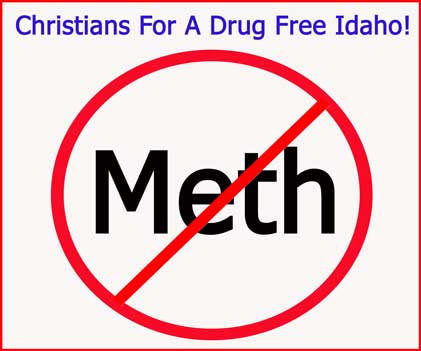 Gathered together on the morning of September 6, 2007, at the Vineyard of Boise was an organizational meeting to address the issues related to the outbreak of methamphetamine abuse in Idaho, as Governor Otter's Idaho Meth Project committee asked Treasure Valley Christian News to help with the effort of rallying Christian churches together to deal with this serious Meth and other drug use problems.
Treasure Valley Christian News of Boise and Vineyard Christian Fellowship of Garden City hosted the four-hour meeting. Dr. Anthony Harper of Treasure Valley Christian News was the MC and shared his testimony of being saved by JESUS from dangerous drugs. A short video by CBN was presented, showing what is happening in Manchester, Kentucky, which has been known as the "Pain Killer Capital of the Nation." They have a slogan there now, saying "God In, Drugs Out."
Pastor Joe Ingrao of the Vineyard, who leads a Christ-centered program called Celebrate Recovery, spoke about this program. It is a 12-step, one-year program meeting weekly, using 4 study booklets. It started 16 years ago and has been in operation here locally for 4 years.
Megan Ronk, Executive Director of the Idaho Meth Project, informed us that this new program in Idaho was formed earlier this year by Governor and First Lady Otter. Its purpose is for the prevention, intervention, and aftercare of those on Meth.
The Idaho program is based on the one started by a Montana businessman two years ago, using $15 million to develop it. The target age group is starting at the age of 12. They use creative messages on billboards and other places, letting the youth know that they are not to use Meth "not even once." They give out wristbands with that message on it; that is, with the words "not even once."
They are arming the people with information, including helping the parents to understand that they should be talking with their children about this subject around the dinner table. By early 2008, this messaging will begin hitting Idaho.
Rep. Debbie Fields, also with the Idaho Meth Project, shared a story of how a young girl who had been on Meth was given an alternative. She was asked if she liked horses, then told that the horse could tell if she had been taking drugs and that she would need to stay clean for a week so the horse would not be afraid of her. The girl later understood that no one had ever believed in her like that. This had inspired her to get free of the drug.
Dr. Terry Trudel, Christian psychiatrist of LaGrande, Oregon, spoke on the subject of "pacing." He shared that those of us who are trying to help a person get off of Meth need to "start out where they are." We need to "break into their world." He referred to this as the "process of engagement."
He mentioned that when methamphetamine was first developed in 1919, there was a normal use for it. It was originated for the purpose of being a nasal decongestant and an appetite suppressant as well as to help those with ADD.
Dr. Trudel mentioned that the usage of this drug changes the user's brain function and that although there is a sense of euphoria and an increase in the energy level of the person using it, that when they withdraw from the drug, there is then lethargy and profound depression. He further stated that not only does the person then suffer from the same depression they had prior to its usage, but also from the chemical depression from its withdrawal.
We were told that there are two forms of treatment for Meth. One is through mental health professionals and the second is by lay people or faith-based organizations.
There were testimonies given by four individuals who have maintained freedom from Meth through the power of God, and various God-given support programs. It was mentioned that one of the ways that would help a Meth addict is proper diet, supplementation, and lots of pure water so that they would not crave the drug. Also mentioned was the fact that writing is good therapy to help in overcoming this, as well as other addictions.
Other speakers included a representative from Teen Challenge of Idaho and Jennifer Matoske of Project Patch, a Christian teen residential program.
The common consensus of the entire meeting was that no one could overcome Meth without divine intervention; that is, without God's help.
Christians For A Drug Free Clay County, Kentucky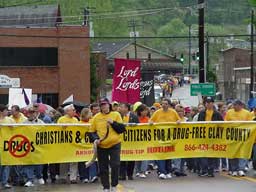 Pictured above Christians For A Drug-Free Clay County march
in Manchester, Kentucky May 2, 2004.

On May 2, 2004, approximately 3500 people filled the streets of Manchester, Kentucky as they marched thru the city to a Rally in the city park. It was a cold and rainy Sunday afternoon. 63 churches of all denominations were involved.

Steve Pence, the Lieutenant Governor of Kentucky, spoke at the Rally along with the Director of Teen Challenge of Kentucky. Karen Engle from Operation UNITE and Bob Mitchell from Congressman Hal Roger's office also took part. At the end of the Rally pastors from all over Clay County in Kentucky signed a proclamation and everyone prayed at the end. It was an extraordinary day!

Spokesman Pastor Doug Abner, pastor of Community Church in Manchester said "The Church has sit back long enough and let drug dealers and corruption take over our county. By marching we are simply saying NO MORE! We want drug dealers to know we are praying for them to get SAVED or be BUSTED. We are also asking our court system and law enforcement to be tough on drug dealers." Abner continued by saying, "the Church has been part of the problem. We have turned our heads while these folks have taken over. We have a lot more good people than bad here in Clay County. It is just time the good people of Clay County rallied together and made a difference." Pastor Abner concluded in saying, "When the Church, the law enforcement agencies and the courts work together, we will see big changes in our county."

Christian Treatment Solutions For Getting People Off Drugs

1. A personal relationship with JESUS as their SAVIOR.
2. Children of Hope Family Hospital missions built ( http://childofhope.org ).
(Children of Hope Family Hospitals would possibly be the first Christian hospital missions in the
United States to help teens and adults get off Methamphetamine and other dangerous drugs (to
serve families who cannot afford help elsewhere.)
3. More recovery shelters for youth and adults.
4. More church based support recovery groups to include groups in schools.
5. More Teen Challenge schools and residential treatment programs
6. More residential treatments centers like Project Patch in Garden Valley, Idaho.

*For those who prefer the faith-based counseling approach, there is an exemption in the State of Idaho Counselor License laws – see reference web site: http://www3.state.id.us/cgi-bin/newidst?sctid=540340002.K

Treatment Information:

Celebrate Recovery – Joe Ingrao Vineyard Christian Fellowship
4950 N. Bradley, Boise, Idaho 83714
Phone: 208-377-1477 Click here to view the Celebrate Recovery web site.

Pure Word (Christian support group for people on drugs)
Randy Nurmi, Executive Director
Calvary Chapel - located at the Franklin Business Park:
226 S. Cole Rd, Boise, ID 83709
(208) 322-3073 Web Site: www.pureword.org

Children of Hope Family Hospital
(to be the first Christian hospital mission for kids and adults
on drugs—please help build our desperately needed facility for the Glory of JESUS!).
Rev. Anthony Harper, Ph.D., Executive Director
P.O. Box 2353, Boise, ID 83701
Telephone (208) 658-8013 Web Site: www.childofhope.org

Christians For A Drug Free Clay County
Pastor Doug Abner , Community Church
1Fayette Properties 1-C, Manchester, KY 40962
Telephone (606) 598-8871 Web Site: www.communitychurch.net
*Click here to see the story at the CBN web site: To order a DVD about Christians Christians For A Drug Free Clay County,contact:
CCM Productions, Telephone (606) 598-2267, Fax (606) 598-8866
Email: communitychurch@alltel.net

Idaho Meth Project - Megan A. Ronk, Executive Director
1276 W. River Street, Boise, Idaho 83702
Telephone: (208) 336-1070 ext.128

Project Patch (Christian teen residential program)
Jennifer Matoske, Development Director - Idaho
2058 N. Farwell Avenue
Boise, ID 83713
Telephone (208) 830-6814 Web Site: www.projectpatch.org

Teen Challenge of Idaho (Christian school for teens with problems)
Dr. George Halliwell, Executive Director
11828 Fairview Ave., Boise, ID 83713
Telephone (208) 375-4636 Web site: www.tcidaho.net

Mothers Against Methamphetamine
P O Box 8, Arab, AL 35016
Telephone toll free 1-866-293-8901
Web site: www.mamasite.net
To start a Mothers Against Meth chapter in our Treasure Valley Idaho/Oregon area,
please contact:
Kandice James-Calkins
P.O. Box 1484, Orofino, ID, 83544
Telephone 208-827-2639 or 208-467-0716
E-mail: methrescue@yahoo.com Web Site: www.mamasite-idaho.net


NIV Ephesians 6:12
"For our struggle is not against flesh and blood, but against the rulers,
against the authorities, against the powers of this dark world and against
the spiritual forces of evil in the heavenly realms".

KJV Psalms 1:1-6
1 Blessed is the man that walketh not in the counsel of the ungodly,
nor standeth in the way of sinners, nor sitteth in the seat of the scornful.
2 But his delight is in the law of the Lord; and in his law doth he meditate
day and night.
3 And he shall be like a tree planted by the rivers of water, that bringeth
forth his fruit in his season; his leaf also shall not wither; and whatsoever
he doeth shall prosper.
4 The ungodly are not so: but are like the chaff which the wind driveth away.
5 Therefore the ungodly shall not stand in the judgment, nor sinners in the
congregation of the righteous.
6 For the Lord knoweth the way of the righteous: but the way of the ungodly shall perish.

Click here to download our Christians For A Drug Free Idaho campaign enrollee form.

LET'S PRAY FOR A UNITED EFFORT TO
HELP PEOPLE GET OFF DANGEROUS DRUGS!

Article contact information:
Author Ann Doupont
Web site: www.anndoupont.org
Rev. Anthony Harper, Ph.D., Publisher – Treasure Valley Christian News
Click here to view Anthony's web site. Phone (208) 377-3568
E-mail: drharper@afo.net