Warnings Regarding False Teachers from The Holy Bible 2 Timothy 4:3-4 KJV:
3. For the time will come when they will not endure sound doctrine; but after their own lusts shall they heap to themselves teachers, having itching ears; 4. And they shall turn away their ears from the truth, and shall be turned unto fables.

Cult/Occult Research Websites of interest:
1. www.faithandreasonforum.com
2. http://www.ericbarger.com
3. www.lighthousetrailsresearch.com
4. www.thebereancall.org
5. www.christianinformation.org
6. www.scp-inc.org
7. www.carm.org
8. http://apprising.org
9. www.ankerberg.com
10. http://www.worldviewweekend.com/brannon-howse
11. www.mazeministry.com
12. www.saintsalive.com
13. www.psychoheresy-aware.org
14. www.icsahome.com
15. www.deceivedonpurpose.com
William P. Young's (New Age Version of GOD) in 'The Shack'



Video:
Dr. Michael Youssef Warns People of the 13 Heresies of the Shack book.
Apologist Eric Barger Warns People of The Heresies of the Shack book.
Audio MP3:
Matt Slick interviews Shack author Paul Young
Dr. Albert Mohler (President of Southern Baptist Theological Seminary)
'Shack' book review by Dave Hunt/T.A. McMahon of The Berean Call
Hank Hanegraaff Speaks Out On The 'Shack'
- Click here for the Christian Research Institute web site.
Book Reviews
Dr. Albert Mohler (president of The Southern Baptist Theological Seminary)
Click here for Calvary Chapel's warning on the 'Shack' book.
Focus on the Family warning on the 'Shack' book
Chuck Colson of Breakpoint and Prison Fellowship
Hank Hanegraaff of the Christian Research Institute
Matt Slick of Christian Apologetics Research Ministry
Berit Kjos of Kjos Ministries
Warren Smith of Deceived on Purpose

Check out Matt Slick's recent confrontation with 'Shack' book author Paul Young at Northwest Nazarene University at the following YouTube web site:
http://www.youtube.com/watch?v=KMLvmsG2VqQ
Oprah Winfrey

Oprah Winfrey: The Oprahfication of America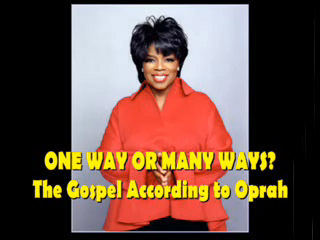 Click below to view videos about Oprah Winfrey and her role as the high priestess of the New Age religion. Please pray for Oprah - that she will turn to the Biblical JESUS and trust in HIM as her SAVIOR before it is too late:

View more of our Oprah Videos Here
VIDEO (One Way or Many Ways: The Gospel According to Oprah)
Oprah Winfrey: Jesus Did Not Come To Die On The Cross
Dont Drink The Kool-Aid: Oprah, Obama and The Occult
One World Church and Oprah Winfrey - 666
'Burning Down The Shack' by Dr. James DeYoung

Click here for Burning Down The Shack Author Dr. James DeYoung interview with Dr. Anthony Harper of The InterMountain Christian News (IMCNH 09-09-10). For broadcast high quality version, click here.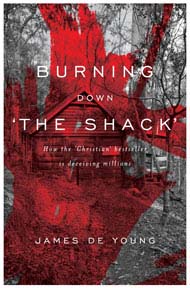 Click here for The Biblical response.
Psychology And The Church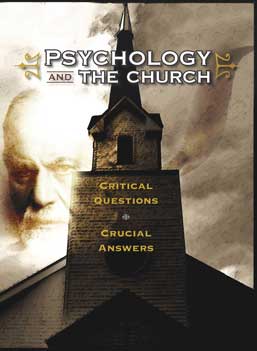 Transformational Seminars - The Loss of Mental Health
Psychology And The Church
The Emergent Church




Click here to read Calvary Chapel's Statement on the Emergent Church
Faith Undone by Roger Oakland - The Emergent Church
Eric Barger

Brennan Manning - Beware of Wolves in Sheep's Clothing - click here for warning.
Eckhart Tolle's 'A New Earth'
http://www.christianinformation.org/article.asp?artID=122
http://www.crossroad.to/articles2/08/new-spirituality.htm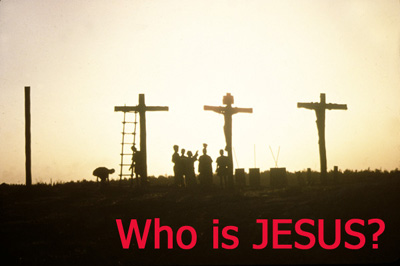 The Apostle Paul speaks about the Supremacy of JESUS in Colossians 2:2-15 of The Holy Bible:
2 ...the mystery of God, namely, Christ,
3 in whom are hidden all the treasures of wisdom and knowledge.
4 I tell you this so that no one may deceive you by fine-sounding arguments....... 8 See to it that no one takes you captive through hollow and deceptive philosophy, which depends on human tradition and the basic principles of this world rather than on Christ. 9 For in Christ all the fullness of the Deity lives in bodily form,.... 15 And having disarmed the powers and authorities, he made a public spectacle of them, triumphing over them by the cross.

(The JESUS of The Holy Bible is Supreme over any other teacher and the Holy Bible is the only authoritative Word of GOD.)

There is a new age delusion that promotes the idea that people's sins are automatically forgiven through the death and resurrection of CHRIST JESUS - all spiritual paths do not lead to the TRUE GOD. The Truth is that all have sinned and fallen short of the Glory of GOD and we must repent of our sins and trust in GOD to save us from our sins. See scripture below:

KJV John 14:6 (JESUS Speaking)
"Jesus saith unto him, I am the way, the truth, and the life: no man cometh unto the Father, but by me."
KJV Revelation 3:19-20 (JESUS Speaking)
"19. As many as I love, I rebuke and chasten: be zealous therefore, and repent.
20. Behold, I stand at the door, and knock: if any man hear my voice, and open the door, I will come in to him, and will sup with him, and he with me."

KJV Matthew 7:13-15 (JESUS Speaking)
"13 Enter ye in at the strait gate: for wide is the gate, and broad is the way, that leadeth to destruction, and many there be which go in thereat:
14 Because strait is the gate, and narrow is the way, which leadeth unto life, and few there be that find it.
15 Beware of false prophets, which come to you in sheep's clothing, but inwardly they are ravening wolves."
If you would like to know JESUS as your personal Savior, pray the following prayer followed by studying The Holy Bible, obeying GOD's command in sharing The Gospel and get involved with a local Christian church. Pray this sincere prayer, meaning it with all your heart, and God will give you eternal life, right now!
"Dear Lord, I am a sinful person who needs You. I turn from my sins and surrender my heart and life to You, right now. Save me dear God and make me
Your child. Thank You for coming to Bethlehem, and for dying for me to pay for my sins. Help me to live for You all the rest of my life." Amen
If you would like to talk to someone further about how to begin a personal relationship with Jesus Christ, please call toll free 1-888-NeedHim and view the website: www.NeedHim.org



Read the following web sites to learn about the JESUS of The Bible:
Who Is JESUS? The most influential life ever lived.
Need HIM? Call 24/7 toll free 1-888-NEED HIM.