One Night with the King
Review by Ken Malgren, Boise, Idaho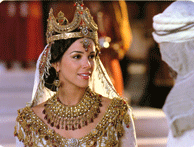 An epic motion picture set in an imaginative world of intrigue and adventure, One Night with the King, follows a young girl who rises from peasant to princess by going against the culture and seeking the King's heart rather than the riches of the Kingdom.

By chance she is born with exceeding beauty to a people who are carried off as slaves to the most powerful kingdom in the world. Esther, an orphan, lived with her relative Mordecai, an official in the Persian court of Ahasuerus, generally believed to be Xerxes I. After his wife Vashti fell out of favor, Ahasuerus chose Esther to be his wife and queen.

It is a film of epic grandeur in the truest sense of the word, shot on location in the exotic, ancient Mogul palaces of Rajasthan, India, alive and teeming with breathtaking cinematography by Steven Bernstein A.S.C., lavish hand-made costumes by award winning Indian designer Neeta Lula, and a wonderfully inspired cast. The cast includes Tiffany DuPont, Omar Sharif, Peter O'Toole and John Rhys-Davies in a stunning performance of the story of Esther.

Gener8Xion Entertainment has recaptured the glory and splendor of what going to the movies used to be about with the nationwide release of One Night with the King. Produced by Matthew Crouch, Stephan Blinn and Richard J. Cook, from a screenplay by Blinn, the film employs beautiful production techniques. One Night with the King stands comfortably among its peers like the productions of DeMille and Mel Gibson's The Passion of the Christ.

It is refreshing to find a Biblically based film with truly high production quality. The inspired performances bring this wonderful story to life in an anointed manner. The sets are grand and the cinematography is worthy of an Academy nomination.

Following its October 13, release in 909 theatres around the United States, the film has done well. The Hollywood Reporter said, "arguably the most surprising film performance of the weekend. . . Queen Esther earned a remarkable 4.1 million. . ."

One Night with the King is a film that everyone will enjoy, especially if you like the grandiose productions of Cecil B. DeMille.

View the web site http://www.8x.com/onenight for more information.